Residential property investment remains a popular option for people looking to secure their financial futures and Dunedin has always been seen to be one of the most affordable of New Zealand's major cities, despite the steady increase in price. Median house prices as at 31st of March 2019: Auckland $856,000, Wellington $620,000, Canterbury $460,000 and Dunedin $430,000. There was a new median price set a record again for Dunedin in April 2019 to $439,000.
The Dunedin market is a unique investment opportunity given the large student market with the University of Otago and Otago Polytechnic students accounting for just over 20% of the population at the 2006 Census. Our population is now sitting at 130,000 people with a 1.5% increase over the past 12 months.
For landlords, the structure of the student rentals is quite different from a conventional tenancy. Flats are traditionally rented on a per room basis, and signed up for a 12-month lease, from January 1 to December 31 each year. The majority of students form groups and begin looking in July and August for flats for the following year. The key to student flats is the location - generally students do not want to be more than a 10 to 15-minute walk from their flats to lectures.
The draw of the student market is the increased capital growth, comparative to the rest of the city, as rents rise each year, and the yields are attractive. A flat in good condition in the most popular streets run around a 6 to 7.5% gross return.
It's not an easy way to make money though, it takes hard work and careful planning. One of the most common mistakes inexperienced investors make is overcapitalising on a property. That is, the money they spend on a property is not justified by the rental income it can produce.
An article on Stuff Business, Property Consultant Lisa Dudson, author of the New Zealand Property Guide, said not many investors were capable of managing their own properties well. Many would not put up the rents as often as they should and not know how to deal with problem tenants.
Often landlords make the mistake of not viewing their residential rental property(s) as a business. The Ministry of Business, Innovation and Employment (MBIE) published an article on the responsibilities of Landlords. It's a reminder to rental property owners that they're running a business and, like all businesses, there are rules and regulations to adhere to. Failure to comply with the rules may result in hefty fines - up to $4,000 for failure to comply with the Residential Tenancies Act 2016.
The Directors of Click Property Management have been working in the Dunedin residential rental market for over 20 years and being property owners themselves, they have the necessary knowledge, expertise and sound understanding of the legal requirements in order to maximise your investment.
Being a previous recipient of Landlord of the Year and winner of the Service category in the Otago Chamber of Commerce Business Awards, is testament to their dedication and continued technological leadership in a complex and dynamic industry.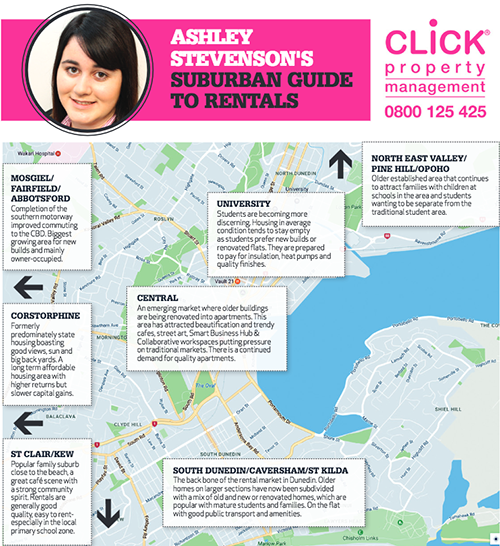 Andrea & Ashley, two of Click Property Management's Directors, helped to provide data for the investors guide to Dunedin residential rentals. The guide was part of the local update published in the NZ Property Investor magazine October 18 issue.
Mosgiel/Fairfield/Abbotsford
Completion of the southern motorway improved commuting to the CBD. Biggest growing area for new builds and mainly owner-occupied.
University
Students are becoming more discerning. Housing in average condition tends to stay empty as students prefer new builds or renovated flats. They are prepared to pay for insulation, heat pumps and quality finishes.
North East Valley/Pine Hill/Opoho
Older established area that continues to attract families with children at schools in the area and students wanting to be separate from the traditional student area.
Central
An emerging market where older buildings are being renovated into apartments. This area has attracted beautification and trendy cafes, street art, Smart Business Hub & Collaborative workspaces putting pressure on traditional markets. There is a continued demand for quality apartments.
Corstorphine
Formerly predominately state housing boasting good views, sun and big back yards. A long term affordable housing area with higher returns but slower capital gains.
St Clair/Kew
Popular family suburb close to the beach, a great café scene with a strong community spirit. Rentals are generally good quality and easy to rent especially in the local primary school zone.
South Dunedin/Caversham/St Kilda
The back bone of the rental market in Dunedin. Older homes on larger sections have now been subdivided with a mix of old and new or renovated homes, which are popular with mature students and families. On the flat with good public transport and amenities.
Disclaimer
The information on this website is provided for general information only.
Click Property Management does not assume any responsibility for giving legal or other professional advice and disclaims any liability arising from the use of the information. If you require legal or other expert advice you should seek assistance from a professional adviser.