Are you ready if there is a Fire?
Having a fire escape plan can save your life!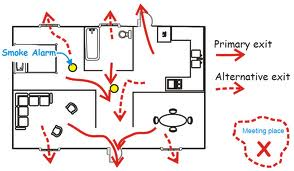 We recommend every home has working smoke alarms and a fire escape plan in place incase you ever have a fire.

Everyone in your family needs to understand your Escape Plan and to practice escaping from each room in the house by any exit (including windows if need be).

Most fires start in kitchens, followed by bedrooms and family rooms. A good practice may be to try your escape route every three to six months.

We recommend you:
- Have working smoke alarms (and test them regularly)
- Invest in a fire extinguisher and also a fire blanket
- Know two ways out of every room if possible.
- Draw your plan on paper and keep it visible to remind people (the fridge tends to be a good place)
- Make sure that doors and windows needed for escape are clear and easy to open.
- Make sure there is a safe way to reach the ground from upper floors (this may mean having a rope or rope ladder handy)
- Keep keys in deadlocks at all times when home
- Have an outside meeting place (ie. across the road, at the park next door or the top of the driveway)
- Make special plans for young children and older people

Remember, it is better to be safe than sorry!