Housing Issues - Domino Effect
The current Dunedin housing shortage and price increase has a flow-on effect on the rental market. And unless the Government makes some drastic changes to rental affordability it's only going to get worse!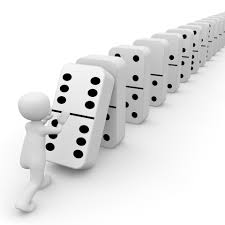 The Domino effect...A combination of the current Labour Government changes to the rental industry with increased rental housing regulations, the failed kiwi build scheme (plus other false promises) have meant that the rental housing stock has taken a hit (not only in Dunedin but NZ). This has put pressure on supply and demand which has forced rental prices up.
If owning rental property was more advantageous less property investors would be selling, more would be buying and this would help the large sector of the population that can't afford to buy their own house and also live in a house that is more "rental" affordable.
For those interested, below is a link to an article published in the ODT today on Dunedin housing affordability.
https://www.odt.co.nz/business/property/high-house-prices-threat-middle-class?fbclid=IwAR2SFRhevOZKqVTVvkbH2p2iV0pnmpMMQBuWRs3wwtKCxkewrL5XYKzsiE0