Click's Online Property Viewing System Explained
Click Property Management's online property viewing booking system achieves amazing results!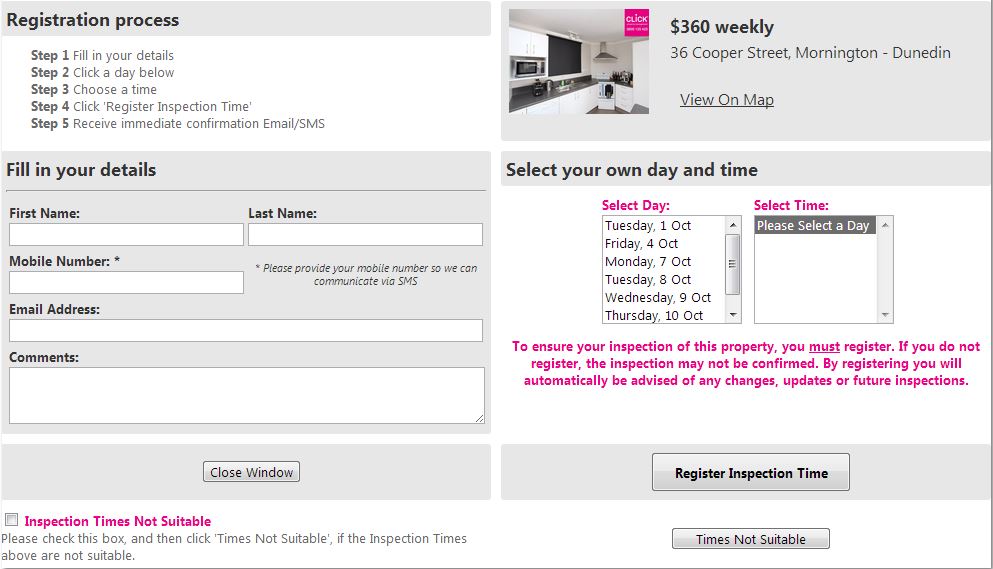 Attention all Landlords!!!

Do you want less vacancy…more rent…more tenants…better returns? Click has the solution with their state of the art online booking system for prospective tenants.

How does it work?
It is a genuine 24/7 online system. This is important because 38% of tenants book viewings after normal business hours.
Our system allows numerous viewing times to be nominated, meaning more prospective tenants can arrange to see your property at a time that suits them.
Bookings can be made anywhere anytime.
Once booked in, the tenant receives instant confirmation and get reminders about their upcoming viewing times one day and one hour in advance.
Our custom built database allows us to look ahead and see how many people have registered to view your property. This information allows us to tailor strategies to ensure your property is rented as quickly as possible.
We make it easy for prospective tenants to inspect your property, meaning you are more likely to convert the enquiry to a potential tenant. We have access to accurate, real time data about the amount of interest in your property, while our competitors wait and hope!

Check this amazing renting tool out for yourself under a current house we have available HERE.