What You Need to Know about Asbestos
Are you aware of implications to you from Asbestos products that have been used in NZ Properties?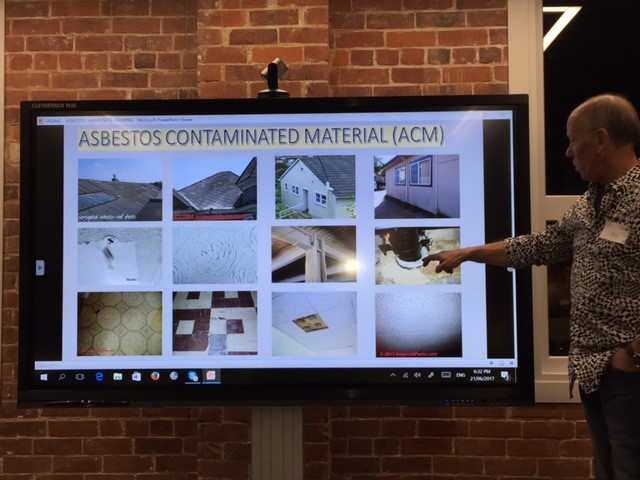 At Click we are very pro-active when it comes the risks related to property management. Our aim is to mitigate and or control to the best of our ability Click landlords risk.
On Wednesday night Andrew, Andrea and Ashley attended a local Property Council event. The topic of the evening was the latest game changer to our industry – asbestos.
In the photo attached Mike Lea from Salmac Insulation is pointing out common materials in a residential house that could contain asbestos. This includes, and is not limited to, roof metal, decramastic & slate tiles, hardy board, soffits, ceiling tiles, pipe lagging, old hot water cylinder wraps and fuse box back boards, vinyl and approximately 80% of the water pipes in Dunedin. Attached is a link to the Work Safe website which outlines even more of the common areas. Click HERE to view.
As a PCBU (person conducting business or undertaking) we have a duty to disclose if there could be any harm caused from fibrous particles to not only protect tenants living in a property but also contractors or people who come into contact with your property.
We were advised there is a strong chance that every house built prior to 2000 could have asbestos present (to one degree or another). The risk comes when products containing asbestos (whether they are fibrous or non-fibrous) are being removed, or disturbed due to maintenance work being completed. ie when soffits are being drilled through to make way for ducting, removing old vinyl or hardy board while completing R&M or renovations.
If it is suspected that asbestos could be present we highly recommend having this checked, if necessary tested (there is a cost per test) and potentially removed. If it is found that asbestos is present and it has been removed incorrectly, this could have a huge impact on you as a landlord with expensive clean up and removal costs - along with the possibility of fines being laid.
Through our Maintenance Manager system, we are able to advise all contractors that are working onsite that there is a potential hazard, thus mitigating some of your risk as a landlord.